MAKING LIFE EASIER
Simple Systems to Manage Your Time, Things, Money, and Life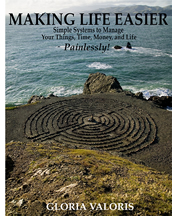 DO YOU WANT TO
Know where your things are and not have to search every time you need something?
Have systems for doing routine tasks that makes doing them easy and automatic?
See clutter-free surfaces and rooms and know that keeping them clear is easy?
Have clear goals and make progress towards them every day?
Know your priorities and put those activities first?
Manage your money, spend wisely, and save for rainy and sunny days?
Manage your emotions and stop the drain of procrastination?
If you answered yes to any of these questions, then you need to read this book!
Clutter, time, and systems difficulties are all related problems. This workbook describes the principles of using systems to make organization easy,
provides many practical examples, and helps to immediately create order, comfort and ease.
To order this book, click here
Home | Office Organization | Time Management | Resources
Contact Information | | Workshops & Presentations